MR. VENANZANGELI, HOW DID THE COLLABORATION WITH SIVECO COME ABOUT AND WHAT PROMPTED YOU TO CHOOSE COSWIN 8I?
In 2017, my colleagues and I in the maintenance department of our Latina production site realized that, although we paid careful attention to maintenance management, the use of traditional tools based on MS office (Excel, Word and Project) would never allow us to make the necessary leap forward towards a maintenance model which is aligned with the technological evolutions of the fourth industrial revolution.
We therefore made the choice to write our own future and set about investigating the market to understand which supplier would best meet our needs. We chose Siveco, which offered an extremely versatile product, meeting our needs at the time and offering ample opportunities for future growth.
The implementation was extremely fast, taking about a couple of months. When selecting the hardware to be used, we also assigned some tablets to our maintenance technicians in order to:
Receive intervention requests in real time;
Download documentation via a QR code on each machine;
Close completed interventions without necessarily having to return to the office.
HOW HAS THE USE OF COSWIN 8I AT THE CISTERNA DI LATINA SITE EVOLVED OVER THE YEARS AND WHAT ARE THE RESULTS OBTAINED IN TERMS OF MAINTENANCE EFFICIENCY AND RECOGNITION?
Shortly after the Coswin 8i tool came into service, we saw the benefits of using a CMMS and immediately realized that this was a radical change in our maintenance model.
The next step was to move from a preventive maintenance model to a predictive model that we built together with Siveco through the use of IoT sensors on our main unmanned machines. The predictive maintenance project started part way through the year and entered service at the end of December. The sensors were chosen based on the attributes we needed to monitor; at this stage we dealt with:
Energy consumption;
Temperature;
Noise;
Air and liquids flows.
The data recorded by the sensors was extremely helpful in the analysis of faults: it was like having a time machine with which we could go back in time to see what parameters were out of range and what effects they produced. A very powerful tool indeed.
Since the project went ahead, we have benefitted from a drastic reduction in unplanned downtime and improvements in terms of sustainability:
Lower energy consumption, with the attendant lower CO2 emissions;
Real-time alarms in case of liquid spills or gas leaks;
Efficient maintenance of machines with a reduction in production losses.
We entered our predictive maintenance project in our company's 2018 Innovation Award and received a special mention in the innovative ideas category. Since it was established in 2004, the Leonardo Innovation Award has been one of the most anticipated events within the company and is also watched closely by Italian students studying STEM (Science, Technologies, Engineering, Mathematics) disciplines; indeed, since 2015 these students are encouraged to participate to explore the new frontiers of research and technology.
WHAT FURTHER DEVELOPMENTS HAVE YOU PLANNED OR ARE IN PROGRESS FOR THIS COLLABORATION (USE ON OTHER SITES, DEVELOPMENT OF THE ALGORITHM FOR THE CREATION OF THE STANDARD MATHEMATICAL MODEL, ETC.)?
Because of the results we've seen at Cisterna di Latina, we have been asked to extend the system to other Leonardo sites. This year, we started with our site in Ronchi dei Legionari (located in Northern Italy) and have also worked with some of our customers' on-site activities. The goal is to keep the momentum going and eventually cover all of the production plants operated by our avionics and space systems business in Italy.
In addition to rolling the model out to more sites, we also have a great opportunity to continue implementing big data analysis algorithms, in order to obtain performance indicators and develop a machine learning model. Compared to the traditional model, where we know only whether a machine is working or not, performance indicators give us richer information telling us how well or how badly a machine is working, providing a statistical indicator of defects and allowing us to predict the next failure and the time period in which the fault will occur. In this manner, production downtime can be planned, limiting the impact on the business.
The machine learning model will allow us to expand the number of machines we are monitoring in a fully automated way, needing only to tell the system that we have installed a new machine, similar to others already in use (a new cutter machine, a new refrigeration unit etc.), and that its parameters are currently optimal. The system will then automatically recognize the new machine, will calibrate its health parameters and, after a short observation period, will include it in its continuous monitoring in a completely autonomous way.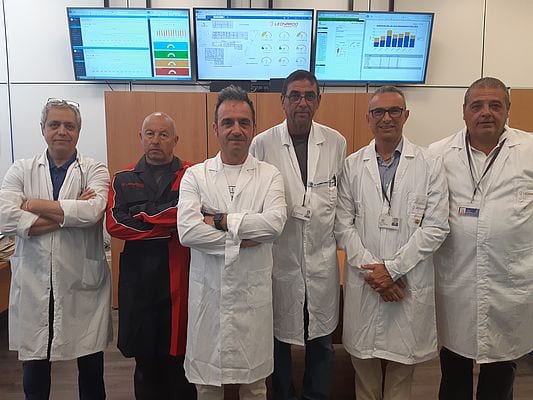 The team at Cisterna di Latina started the project in mid-2018 and put it into service in December of the same year